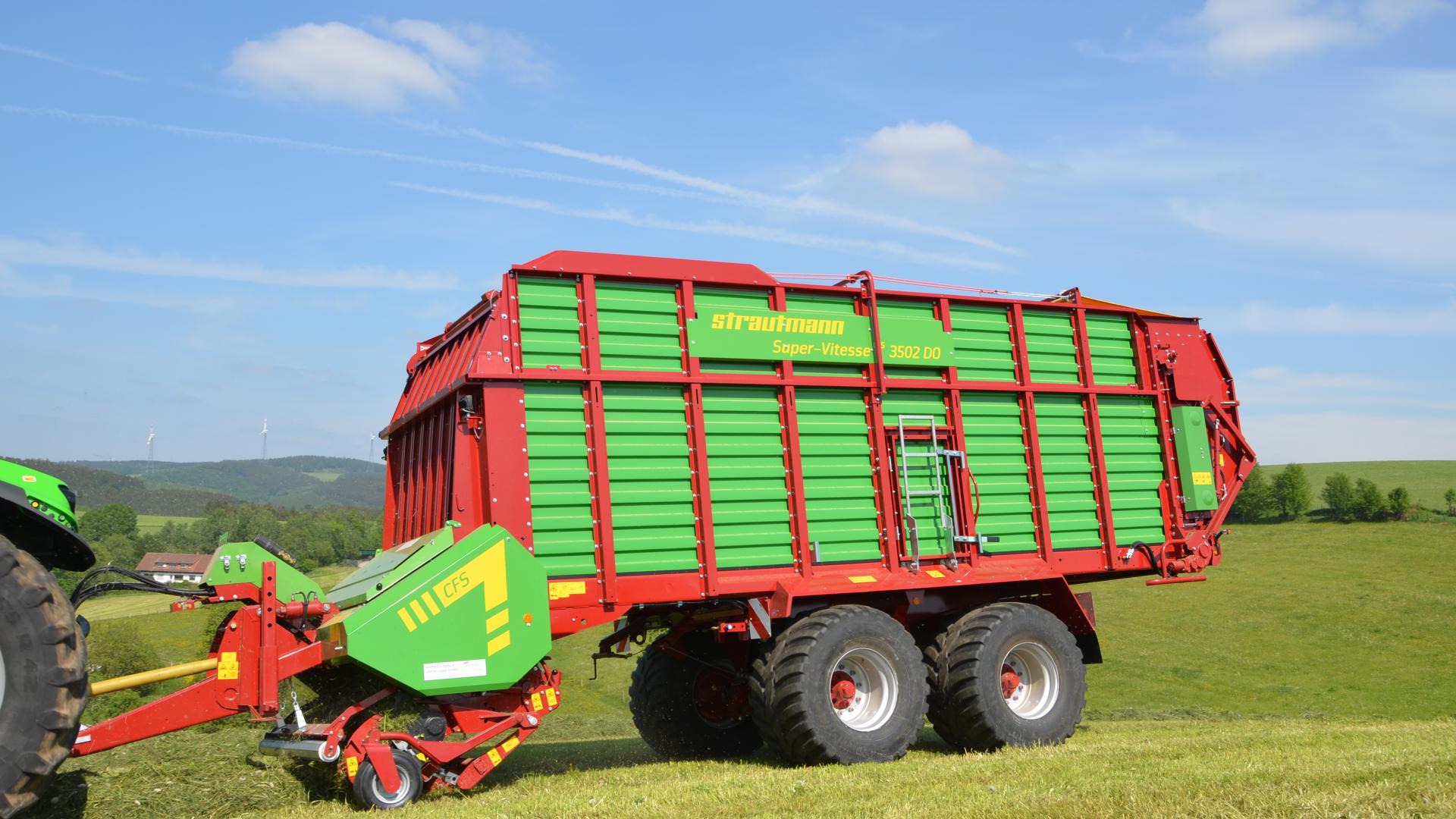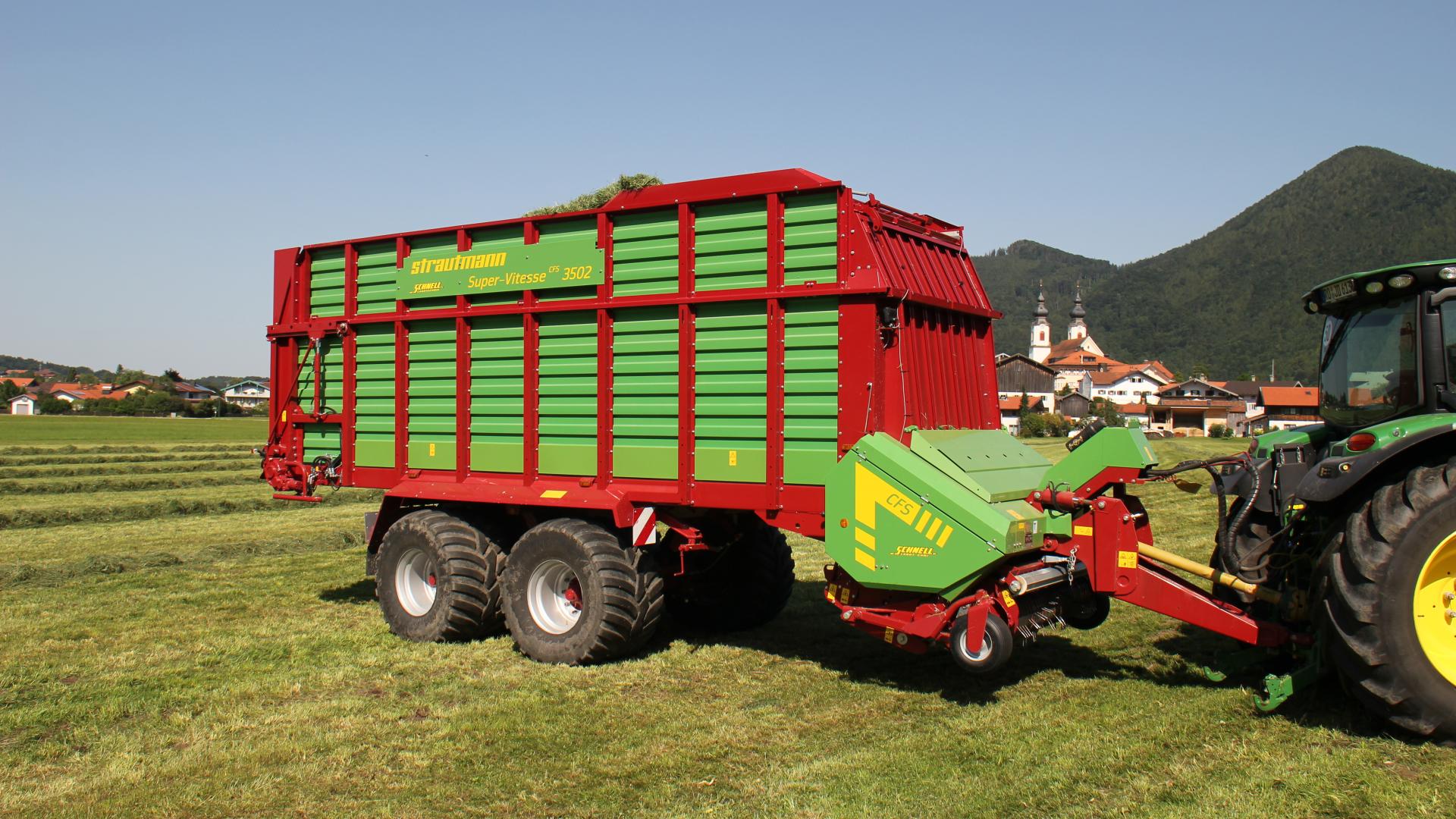 Super-VitesseCFS - Short-cut forage wagon already from  29 m³!
With particularly low drag resistance of the unique Continuous Flow System (CFS).
Super-Vitesse 3102 - 3502
Loading capacity 29 - 33 m³
CFS unit
CFS - Continuous Flow System
- the system for efficient charging
Due to the interaction of different components, the CFS unit ensures excellent charging performance with little power required. Pick-up, CFS roller, rotor and Double-Cut cutting unit are ideally matched to each other and complement each other perfectly. This results not only in excellent cutting quality but also in easy towing, thus saving power, money and time.
Rotor and cutting unit
- For optimum fodder quality
Feeder rotor with 6 tine rows
Helically arranged
Consistent torque without peak loads
Superstructure
Solid superstructure
Slip-proof transport floor
Easy access
Optimum filling degree
Clever dosing
Chassis
Boogie tandem chassis
Chassis with parabolic suspension for an admissible axle load of 16 t
Optional 18 t Fahrwerk chassis
Passive steering axle
Optional equipment
Excessive friction of wheels on the ground is prevented
Electronic forced steering axle
Optional equipment
The SES system ("Strautmann Electronic Steering") provides a high degree of driving stability
Adjustment of steering angle to the speed
Excellent manoeuvrability of the Super-Vitesse CFS
Operation
Several operating options enable an adapted and easy operation of the Super-VitesseCFS 02
Electro-hydraulic easy-to-use control
Field Operator 120
Field Operator 130
ISOBUS-terminals
Technical data

Model
 
Super Vitesse CFS 3102 (without beaters/with
beaters)
Super Vitesse CFS 3502 (without beaters/with
beaters)

Dimensions

 
 
 
Length

m

8,80 / 9,40

9,60 / 10,25

Outside wheel width chassis 16t, tyres 620/40 R 22,5
m
2,72
2,72
Outside wheel width chassis18t, tyres 710/45 R 22,5
m
2,81
2,81
Heigth chassis 16t, tyres 620/40 R 22,5
m
3,83
3,83
Heigth chassis 18t, tyres 710/45 R 22,5
m
3,95
3,95
Cargo space dimensions
 
 
 
Heigth
m
2,35
2,35
Width
m
2,10
2,10
Length
m
5,87
6,70
Dead weight, standard equipment
kg
6900 / 7400
7100 / 7600
Gross vehicle weight rating
 
 
 
Gross vehicle weight rating standard
kg
18000
18000
Gross vehicle weight rating optional
kg
22000
22000
Power required
KW/PS
88 / 120
96 / 130
Loading capacity, medium compression
m³
50,8
57,8
Loading capacity, according to DIN 11741
m³
29
33
Additional data
 
 
 
Conveying unit type
 
Rotor
Rotor
Picking-up width of pick-up
m
1,80
1,80
Number of knives
Stück
39
39
Theoretical cutting length
mm
39
39